Who is the most well-rounded player out there? Well, it sure ain't me, so I'm extra excited for the upcoming revolver league on OCTGN - starting in one week on Friday March 9th!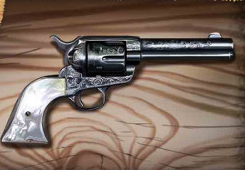 Get some experience with those faction(s) you rarely or never play. This extended league will require players to play all 6 factions before being able to use one again. The single best way to improve as a player is to play with the decks that vex you the most!
Details are in the challengeboards link below, but we will have participation prizes, prizes for the top finishers, and a prize for the winner of the most creative deck.
If you have never joined an OCTGN league before, this more casual league is a great time to jump in and test the waters. Join us on Discord for more discussion, help, and arranging games.
---
Sign Up and Details
For more details, and to sign up head to:
http://www.challengeboards.net/boards/details/11537
password: dtr