I finally found the time to go through Miles's collection. Those sets go up to Blood Moon Rising, however I can ensure there'll be cards up to There Comes A Reckoning in the auction set. There is also on Morgan gadget tin, two leather pouches, some metal ghost rock, a number of black sleeves easily enough to hold two decks and three protective plastic containers.
Second thing: I managed at UKGE to acquire a base set and the Foul Play saddlebag in addition. I'll keep those separate to the above but it is available. There are options as to when to run the auction but the two obvious ones are at the Euros, or at our London special event. I suppose also what we could do is something like bids via comments on this thread and you can just tell me which of these events I shall need to get these to! [I'll also stick some other photos up of the collection.
All proceeds of this will be going to Mile's family's chosen charity, Papyrus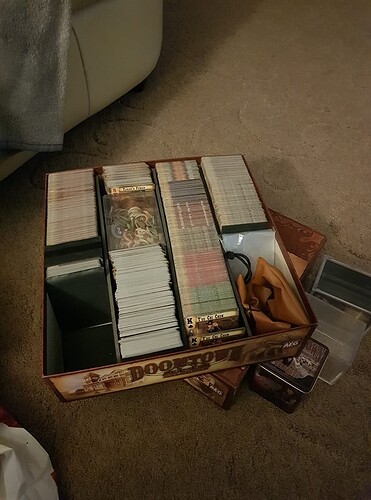 , So spread the word far and wide, but do let's raise some coins for this one, eh? I'm certain it will be greatly appreciated.