Previous expansions will be available in the KS Pledge Manager, including AEG era, with the exception of Dirty Deeds, which is available through DriveThruCards
The Kickstarter is set to occur in Aug, when do you expect the new core sets to be available?
We are marking an anticipated fulfillment of May 2022, however, what is different on this process than TCaR is we'll be ready to produce once we have rough numbers via the pledge manager so we're hopeful for shipping sooner pending the state of the world at that time with all the issues on delays right now.
Further questions from Discord:
-Set will be 2x from a large card pool and include 6 Jokers so 3 decks can easily be made; you'll want 2x Base Set for 4x all cards
-Doomtown Online will be free during the course of the KS
Ok how does Fear Level work?
It's going to be one of the Town Square marker options. Fear Level rises as Control Points aren't added to the board to create a timer/countdown to inevitable conflict.
Can you provide any more details on the other variants? I'm also quite happy to wait in anticipation for the Kickstarter. So excited for the new direction!
Introduction Mulligan
Deadly Shootout
Town Control
The 4 Town Square markers are roughly as follows (keeping details for the KS):
-Shooting Range: mulligan (can add this on any of the others or use on your own)
-Gomorra: Fear Level clock
-Tombstone: casualty increase
-Deadwood: town control
MRP (Most Recent Printing) cards will have a watermark on them.
Townsquare Markers.
Ok so the "default" one is:
Townsquare
Public
No player may control the Townsquare. Townsquare is adjacent to every In-Town Deed.
And now there are going to be new Markers that add additional traits? For example Fear Level may say something like "If any player has greater Influence than the rest of the players in Townsquare during Sundown, that player has an additional number of Control Points equal to the Fear Level"?
Correct, the marker adds an additional element to the game.
Whoa Whoa! Interseting…
Will the new solo rules be compatible with the previous sets? (have been waiting soo loong…) And will the online format support such mode?
Will there be an update pack (cards, tokens, rules) for the base set offered in the kikstarter for those who already own all the previous materia?l I personally have the deluxe version + a core + all exps. except (Welcome to Deadwood) and investing in 2 new cores (again) feels a bit too much I´m afraid.
Thanks in advance
-Everything is 100% compatible with old cards
-Doomtown Online will have an initial focus on the Standard environment
-Having 'update' only offerings will be entirely dependent on the success of the Kickstarter as we can't promise to hit a minimum production run of such items at this time.
A huge goal of the new base set is to make sure we offer enough things to enhance the Doomtown experience for existing players while also drawing in fresh greenhorns.
Ok.
What got the Hammer, and what got the Axe?
We saw Thunderboy and Cavalry (hammer)… heard about Unprepared (axe?)… what else?
Well, we've got Jessica instead of Sloane. That's a pretty good hint something isn't returning.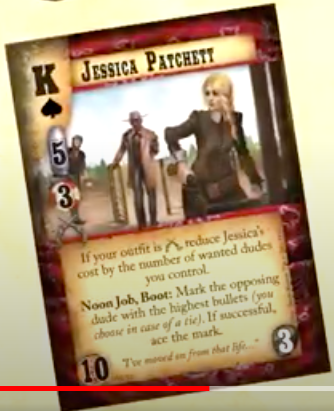 Yeah noticed that. Maybe Legendary Holster got "axed" (I know it was reviled in Europe…) - what else can you spoil!?
I can drop the bombshell that Auction isn't being reprinted